3. Ickleford Sports and Recreational Club first shoots
The playing field was levelled and seeded in 1976. For a long time there was no grass and first came the weeds, but to the relief of the committee underneath the weeds were the first shoots of grass. In early 1977 the club was named ISRC and consisted of Cricket, Football and Squash and Colin joined the Parish Council to give ISRC a voice. Colin remains on the Council to this day and attended a Queen's Garden party to thank him for his service. The pavilion was constructed by Planwell Properties Ltd, whose Managing Director, David Phillips and his late father, both played squash to a high level. The Architect was Mr.Tony Doling.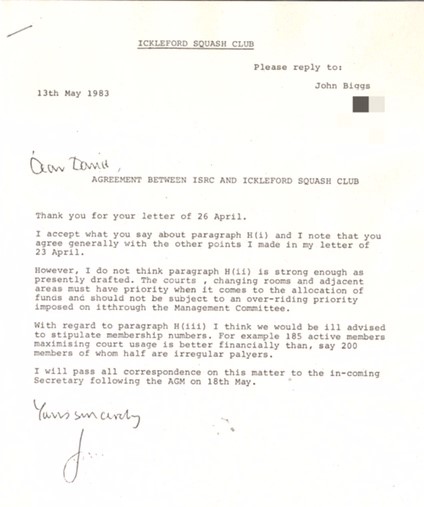 Attached is the covering letter to the agreement between ISRC and Ickleford Squash Club to David from John Biggs, representing the squash club where he still plays in the leagues, and where he met his wife. Apparently John has never booked a court online!